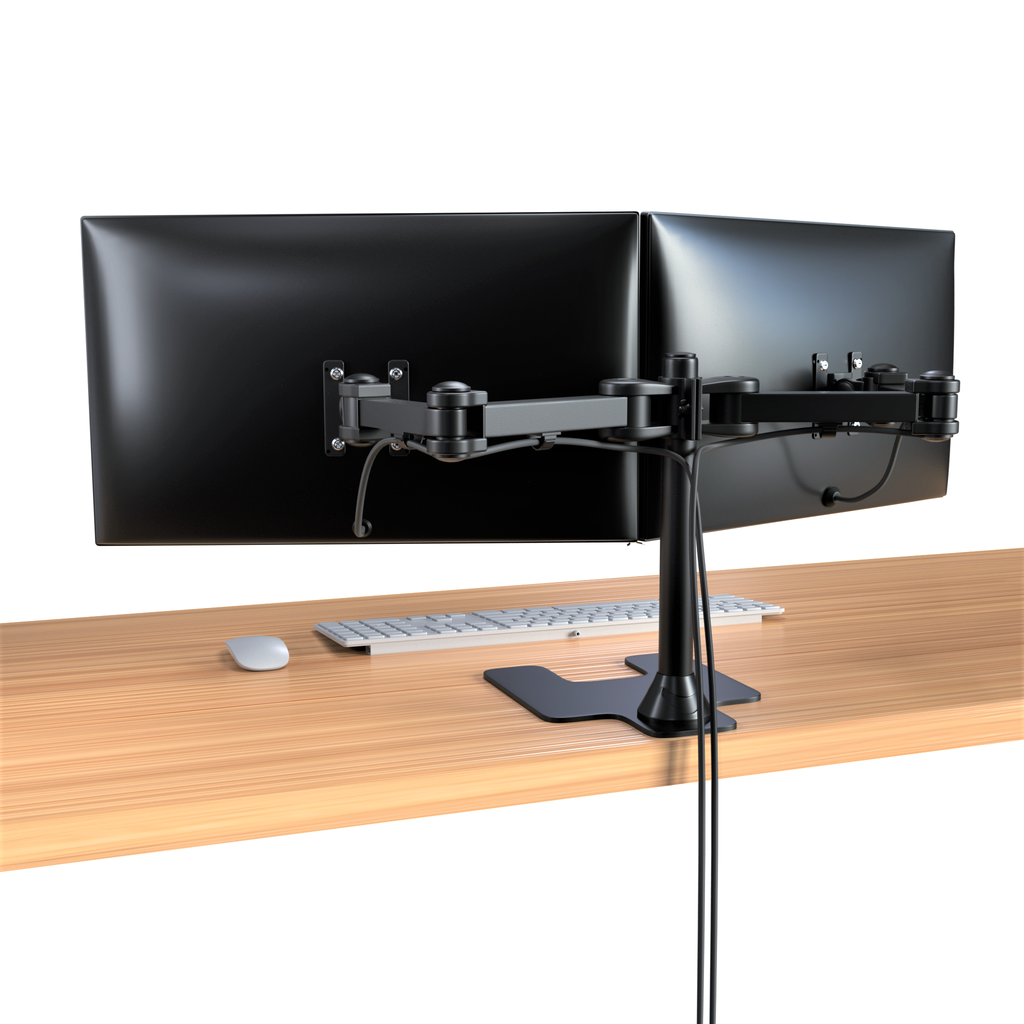 21
Feb
Monitor Arm Ergonomics Basics
Quick Guide to Monitor Arm Ergonomics
In today's digital age, we're all busy working in office spaces.  Sitting for long hours can be detrimental to health which is why many professionals are choosing to use standing desks.
If you're working on a desktop or workstation, you want to make sure that your monitor is at least an inch or two higher from the default desk height while standing. Standing desk users find that using monitor arms to stabilize their displays helps in improving their productivity, focus, and de-clutters their workspaces.
There's zero space for discomfort when you're trying to stay productive in today's fast-paced world. Monitor's arms feature personalization hacks that let you customize your workspace.
Here are our top two monitor arm recommendations for those new to working in the office:
You can tilt, swivel, angle, and adjust the Gas Spring Monitor Arm by Rife. It lets you free up desk space and is a height-adjustable monitor arm for users. What's unique about it is its innovative counterbalance technology and you can use it to mount your monitor displays with ease. The best part is that it can support weights of up to 8 kg.
If you're considering investing in a comfortable monitor arm that lets you work for long hours without experiencing pain or discomfort, try the Full Motion Swivel Monitor Arm by Rife. You can set up monitors of sizes 17" to 27" and it comes with a detachable cable clip that lets you organize your cables and jacks.
Tips for Making the Most of Monitor Arm Ergonomics
Set up your monitor arm ergonomics correctly and you'll be having a pleasant time working hours away. You want to make sure you feel rested and comfortable when adjusting the screen height and distance using these. Here are a few tips.
Set up Your Monitor at Arm's Length
When using a monitor arm for the first time, a good rule of thumb for proper ergonomics is to set it up at arm's length. This will reduce eye strain and ensure you can work for long hours without experiencing fatigue.
Place Dual Monitors Close to Each Other
If you're using a dual monitor layout or multiple monitors, you can use monitor arms to place them close together. Create a semi-circle layout by angling the screens and bring the primary monitor to the front or back to get a comfortable viewing experience. You will have to adjust the viewing angle until you find a sweet spot.
Look for Height Adjustment
Your monitor arms should give you room to swivel, tilts, rotate, and adjust your monitor displays. Height adjustment is a common feature to look for when buying quality products
Conclusion
If you're on a budget, you can go for full-motion articulating monitor wall mounts instead of monitor arm ergonomics. There are plenty of options to choose from in the industry and the best monitor arms are products that are durable, easy to use, and long-lasting.