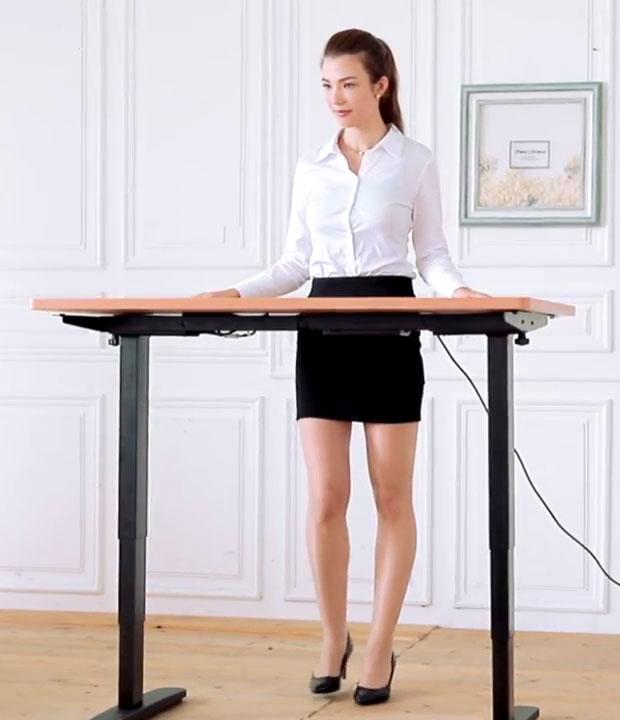 19
Feb
Top Tips for Effective Standing Desk Ergonomics
Millions of workers in offices complain of back pain and postural imbalances when working for long hours. If you've read the latest research, you likely know that sitting is bad for long periods of time. Health issues like metabolic syndrome, high blood pressure, and diabetes happen with sedentary lifestyles. In an effort to prevent them, professionals are opting for standing workstations.
But just getting a standing desk isn't enough. If you don't get the ergonomics right, you're setting yourself up for failure. Here's a basic guide to standing desk ergonomics for beginners.
Posture
When using a standing desk, keep the top of your monitor just below your eye level. You want to choose a desk that is at least 20 inches away from you and faces directly in front. Your wrists should be relaxed and straight, with your elbows below your upper arms.
Keyboard and Mouse
Your keyboard and mouse should be placed on the table and stay level.
Phones
If you frequently receive calls, you can set up your phone on loudspeaker to prevent yourself from continuously stretching out. Objects like staplers, printed materials, and office work tools should be kept close to your body to prevent excessive hunching or stretching.
Tips for Making Your Standing Desk Work
When you first buy a standing desk, it becomes quickly apparent when you buy one that doesn't suit your height.  You should feel comfortable standing naturally and not face postural discomfort when setting up your work desk. Monitor arms can help you adjust your displays and make the viewing experience much more pleasant.
When buying a standing desk, look for the following features:
Height adjustment will let you change positions from sitting to standing and vice versa. It's a great way to alleviate pain. Standing desks come in a variety of styles and let you change body positions. You can try out the Adjustable Sit to Stand Standing Desk On Top of Your Existing Desk (SSD) from Ergoshopping which lets you take care of your back and in maintaining good posture.
 Most standing desks are compatible for use with laptops and desktops. Non-Electric Height Adjustable Desks are designed for those who are on a budget. Pneumatic Sit-Stand Mobile Laptop Cart is an excellent laptop workstation for those who want a movable workstation without sacrificing versatility.
The good news is that these desks are easy to use and have a lever mechanism for adjusting the height.
Consider the Weight Capacity
Most beginners make the mistake of buying a standing desk without considering its weight capacity. If the table can support only up to 8 kgs of weight and you buy a monitor that weighs 12 kg, it's not going to work.
 Consider the desktop dimensions before buying the frame. You can buy standing work desks with the desktop if they're available as combos. It's a great way to save on shipping costs too.
Your standing desk is designed to accommodate your monitor, keyboard, and mouse. You can buy accessories later if you have enough space for them. Make sure there are no engineering flaws in your desk design and the stability is fixed before getting new accessories.
 Conclusion
There's this assumption that wider desks are more stable but they aren't. Stability and form factor are the two top aspects to look for when investing in these desks. At the end of the day, your comfort is your No.1 priority when you choose to buy these products.