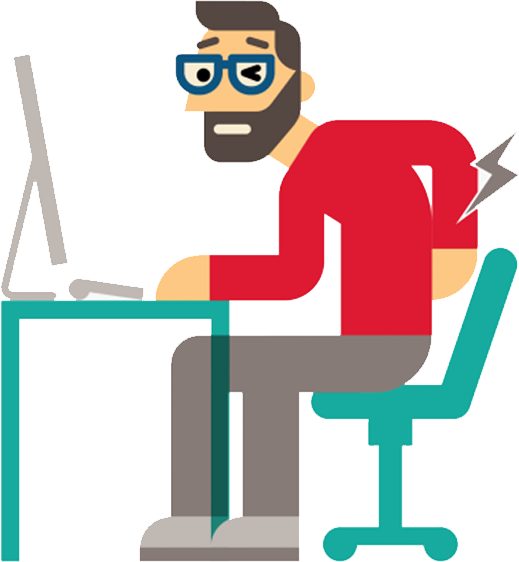 19
Feb
Bad Work From Home Ergonomics Can Set You Up for Failure
Working from Home? Review Your Ergonomics Before It's Too Late!
Poor ergonomics can set you up for failure and leave you unproductive at remote work. If you're working from home, chances are, you'll be spending long hours at your work desk. Millions of computer users are now realizing that their DIY work setups are having deleterious consequences when they suffer from a cascade of health issues.
From postural imbalances, chronic fatigue, back & neck pain, DVT, and other problems, many users are reporting spinal injuries when attending their chiropractor visits in the country. If a high-quality ergonomic work desk and chair aren't a part of your workstation yet, it's time to get one and do a makeover for your home office space.
Companies are investing in remote workspace ergonomics for their employees so that they feel productive at work. When employees develop no back pain or spinal injuries by working long hours, they feel safe, motivated, and stay focused. Work from ergonomics can cover a broad range of products but at its bare basics, an ergonomic setup can prevent various musculoskeletal issues, carpal tunnel syndrome, tendonitis, Repetitive Strain Injuries (RSI), etc.
How to Set Up a Good Work from Home Workstation
Here's what you need to set up a good space for your work from the home environment:
A Sit-Stand Ergonomic Desk
If you're using a laptop, get a sit-stand laptop desk. There are work desks available for desktop setups too which are height-adjustable and come with rolling wheels.
An Ergonomic Chair
The most important aspect of maintaining a healthy posture while working is by making sure you use an ergonomic chair. This should be your first investment and a good chair should provide sufficient cushioning. Most ergonomic chairs give good back support and personalize the seating experience while working.
Tips for Maintaining Good Posture
Did you get your ergonomic workstation finally set up? Good!
Now all you have to do is ensure you maintain good posture while working. Here's how to do that:
Sit Comfortably - Lean back on the chair and make sure your spine feels well supported. You shouldn't feel any pain or discomfort if you're using an ergonomic chair for this
Elbows Relaxed

 - Your elbows should be at a 90-degree angle and not tucked into your ribs. Ensure they hang comfortably below your shoulders

Feet Flat on the Floor

 - Make sure your feet aren't floating in the air and have stability. They should lie flat on the surface with the knees being bent. Your thighs should be parallel to the floor

Shoulders Well-Adjusted

 - Your shoulders shouldn't be hunched but relaxed. This is a natural consequence of attaining the right posture by following the tips mentioned previously
Conclusion
If you're having a tough time getting your work from home ergonomics, you can consult our experts. We can evaluate your current setup and give an in-depth review of it along with what improvements to be done for improving remote work productivity. If you're feeling sharp pains, discomfort, or can't seem to focus on your present workstation, then it's time for an upgrade.