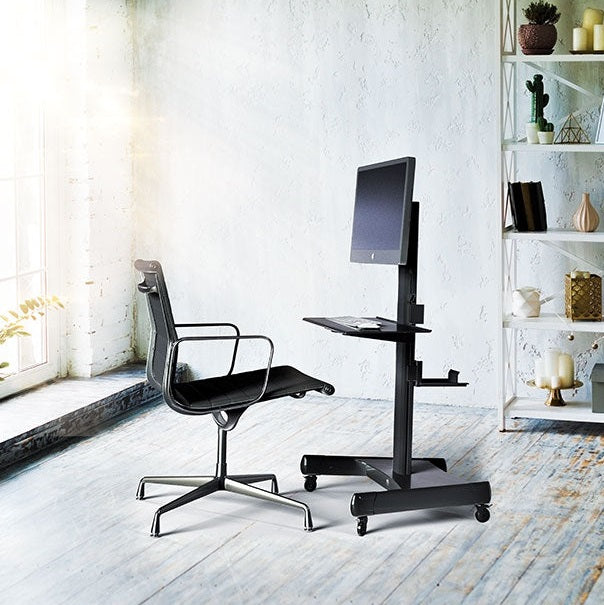 21
Feb
Here's Why You Should Get a Computer Cart for Your Home Office
Why You Should Invest in Computer Carts and Mobile Desks for Work from Home Productivity
What is the best setup for a work from a home office? A mobile computer desk.
Computer carts are designed to create mobile workspaces for users who want to work on the go. These do not take up much room and come with wheels which makes them easy to move around. Mobile carts offer portability and help you stay organized by letting you store AV equipment, printers, and other office equipment securely. 
There's adequate space on the surface and mobile carts feature pull-out drawers or keyboard attachment trays just beneath the desk. A majority of computer carts are height-adjustable which means that users can bring their monitors up or down to their eye level. This ensures no neck strains and an overall comfortable working experience when staying at home.
Rolling costers let users effortlessly glide their carts across rooms and switch things up when they don't want to work with constraints. Today, schools and educational institutions are catching on to this trend and IT labs are using mobile computer workstations to get a real advantage.
Tips for Setting Up Your Portable Workspace
If it's your first time working from home or you're new to the world of mobile computer workstations, here are a few tips to set upright.
Place Your Desk Near the Window

 - This will ensure adequate natural lighting and let your eyes relax from time to time by starting at the outdoor scenery.

Consider a Sit to Stand Desk

 - If you find yourself wanting to change positions often, a sit to stand desk might be apt. These setups let you work for prolonged periods of time without facing discomfort and fix postural imbalances by making you stand upright. If you're working with just a laptop, you may want to consider getting a chair to standing desk converter

Invest in an Ergonomic Chair

 - This is a no-brainer but your mobile desk should be paired with an ergonomic chair. A good chair will prevent backaches, neck pains, and a host of musculoskeletal problems

Add Monitor Arms

 - If you're working with a desktop, you might want to buy a pair of monitor arms. They're great for mounting huge displays and perfect for multi-monitor setups as well

Keep Plants 

- We're not kidding. Indoor houseplants help in detoxifying your surroundings and improve work from home productivity. They prevent you from falling sick by purifying the air and most living plants boost overall mood as well.
Conclusion
If you need help in configuring your mobile desk for home office use, you can reach out to us. We can customize your portable workstation and tailor the design to your requirements based on specific needs. Working pain-free is now made possible thanks to efficient work from home ergonomics. Don't sacrifice your productivity and ensure a comfortable home office working experience today.